SEO is an investment for your company. It helps increases your online exposure, creates brand recognition and boosts rankings across search engines.
'How much does SEO cost' is always a tricky question. True costs and future ROI of an SEO project at its start are always difficult to assess.
When you're planning for your business' digital marketing budget, you will need to determine the amount you're willing to spend on SEO services in Malaysia.
You have to understand the dynamics of the marketplace that influence the performance and price of SEOs. How profitable is the sector? How competitive are the industries you serve?
The importance of improving rankings will differ significantly from business to business and the amount of traffic available in a given industry. For certain local companies, appearing on Google's first page results leads to a drastic increase in leads and sales, while others just make a small difference.
SEO pricing varies greatly from organisation to organisation, simply because there are different requirements for each company. Determining SEO costs to your company involves a careful balancing of the various options available along with the potential benefit. You can thus create a scale, or execute a plan tailored to your industry.
We'll be explaining everything you need to know about SEO pricing Malaysia in this guide. You can hear about the different types of pricing offered, what variables are involved in pricing and even some unethical practices that you can take note on. You'll have a good understanding of what suits the SEO needs best.
Types of SEO Pricing
There are three types of SEO pricing you can find, charged by hourly, monthly retainer and per project or campaign. It all depends on which one that suits the nature of your business.
Below are based on the research done by Ahrefs, explaining the global scale or market on how much SEO is charged on average.
a) SEO Pricing (Hourly)
When you are looking for an hourly payment for SEO, it might be best to hire a consultant or to hire an agency to perform an SEO audit and then pay an hourly rate for different SEO services as appropriate.
Ahrefs gathers research that collects 36.78% of respondents who are selling their SEO services by hour. They found that the most common hourly rate for SEOs is RM440-RM660 per hour, which sums up to 25% of respondents.
50% of respondents are paying between RM330-RM870 an hour.
88.28% of respondents charge RM655 per hour or less, and another 6.25% of them charge more than RM875 for their hourly rate.
SEO agencies typically charge high rates than freelancers. 53.45% of SEO agencies demand more than RM440 per hour, compared to 33.33% of consultants and 15% of freelancers.
The most common hourly rate for SEO agencies is RM440-RM660 per hour.
For SEO consultants, the fees they charge fall on RM330-RM440 per hour, while for freelancers, they only charge RM180-RM220 per hour.
Based on the survey retrieved above, the average hourly rate for each group are:
i. Agencies: RM540 per hour
ii. Consultants: RM530 per hour
iii. Freelancers: RM296 per hour
b) SEO Pricing (Monthly Retainer)
A monthly retainer is the fee of a sum of money a customer has paid in advance to ensure that they can have the services available for an extended period of time. The customer pays a lump sum upfront or makes a regular monthly payment, and you work on a long-term project with them or give them access to resources every month.
Many SEO companies will be offering monthly or annual contracts revolving around a monthly calendar. Many of the monthly packages provided by other organizations would provide a fixed number and category of services, such as written posts, acquired backlinks and optimized websites.
Based on the same research, Ahrefs managed to collect 74.71% of respondents that charge a monthly retainer for their SEO services. They found that the most common monthly retainer rate for SEO services is RM2,180-RM4,360 charged by 23.98% of respondents.
45% of respondents charge between RM2,180-RM8,700 per month.
75.77% charge RM8,700 per month or less, and that leaves 24.23% of respondents that charge more than RM8,701 per month
50.98% of SEO agencies charge more than RM4,351 per month, compared to only 44.64% of consultants and 33.33% of freelancers.
The common monthly retainer rate for SEO agencies and consultants is RM2,175-RM4,350 per month. While for freelancers, they charge RM1,100-RM2,180.
Based on the survey retrieved above, the average monthly retainer rate for each group are:
i. Agencies: RM12,270 per month
ii. Consultants: RM8,300 per month
iii. Freelancers: RM6,000 per month
c) SEO Pricing (Per Project)
There are also agencies that charge their SEO services depending on the number of projects or campaigns received. As for the fees per project, Ahrefs found that 43.35% of respondents charge SEO services price by project. The most common per project rate for SEO services is RM2,180-RM4,360 charged by 25.17% of respondents.
25.17% of respondents charged around RM2,180-RM4,350, which is considered as the most popular per-project fee.
52.35% of respondents charge more than RM4,351 per project.
69.54% of respondents charge RM8,700 or less, while another 30.46% charge more than RM8,701 for per-project fees.
SEO agencies tend to charge much more than freelancers for a monthly rate.
64.71% of SEO agencies charge more than RM4,351 per month, compared to only 47.22% of consultants and 38.3% of freelancers.
The common monthly retainer rate for SEO agencies, consultants and freelancers are RM2,175-RM4,350 per month.
Based on the survey retrieved above, the average per project rate for each group are:
i. Agencies: RM22,720 per project
ii. Consultants: RM19,500 per project
iii Freelancers: RM6,660 per project
You can see how agencies charge a lot higher than the freelancers for all three types of SEO pricing.
The factor that could affect the hourly rate is how many years of experience the agencies, consultants or freelancers have. It seems that experience and track record play a critical role in determining the costs they charge.
For those that have experience in providing their SEO services for the international markets, their rates will also be higher compared to the ones who only serve the local markets.
How much does SEO cost in Malaysia?
SEO rates for the average monthly retainer in Malaysia charged by SEO agencies usually fall from RM3,000 to RM10,000 per month. Generally, the price for one time SEO audit services will go between RM3,000 to RM5,000. Keep in mind that the fees may differ; the costs can be varied as it depends on the SEO agency you hire.
Most SEO businesses provide monthly retainers because most of the time used to rank a website for a specific set of industry-relevant keywords will usually take months to show results.
For hourly rates, they are usually provided by freelancers who will be able to perform the most basic SEO task, as hourly charging usually means that they do not have many retaining clients, which may limit the budget they may spend on more advanced SEO tools.
Some businesses prefer to manufacture their services by offering various aspects of search engine optimization as one-time services, typically for the client with very specific requirements, or for an in-house marketing department outsourcing a particular mission. These services include SEO audit, keyword research, backlink analysis, Google penalty removal and more.
As for SEO campaigns, this is ideally suited for company owners who have unique needs or marketing strategies. An SEO campaign will last on average over 6 months, so you can expect the price to start from RM10,000 per campaign.
What affects SEO Pricing Malaysia?
Since SEO is an integral component of the website, it is a good idea to have some understanding of how to assess the pricing of SEO services:
1. SEO skills
Anyone with actual experience and proper SEO skills appears to have demonstrated performance, so a higher price could be expected. The more you pay leads to better results. It's important for you to search for a company with business experience as the outcomes are going to be worth it.
2. Geography/location
Wherever the business is geographically served and how many other local businesses it competes with, it affects how much SEO costs. When your company has multiple locations, you'll have more sites to reference, one for each location, which means more research on improving your local SEO.
3. Target audience's language competency level
If you intend to customize your website for English speakers, be sure that the company you choose has a solid understanding of English language. This holds the same for every language. You don't hire or pay a service that does not provide excellent English language competency. Visitors who visit your website will find your page sketchy.
4. Time
If you want it to be done fast or if there are a lot of things to do, the more you have to pay. The amount of time it takes to design or build pages to perform directly impact how much SEO costs. Not all SEO service companies are equally generated in their pricing choices, but time remains a factor in any case.
5. Your site's current condition
If you have a long way to go in making your website rank high, then it will increase the cost of SEO services for you. What worked for ranking years ago does not work today since Google always upgrades its algorithm. In some cases, your SEO cost could be lower if your SEO was completed properly years ago and needs just some improvements.
6. Your Competitive Landscape
Many industries are very competitive in nature and hence would have many more competitors in their space. Some might have a greater budget to hire more than one SEO agencies to work on their website, let's say an insurance of a real estate company. On the other hand, some industries may adopt SEO much later and would be easy for them to get a good ranking with a relatively cheaper SEO pricing.
7. Marketing Goal
Suppose you are targeting an international consumer base compared to that in a small town, prices are subject to vary. Similarly, if you are selling one product, as compared to 200 products, SEO pricing should also differ.
8. Services Offered by the SEO Agency
The SEO services you are entitled to receive, whether it will cover the on-site, off-site and technical aspect of SEO, the price can vary accordingly.
SEO Pricing in Malaysia vs Worldwide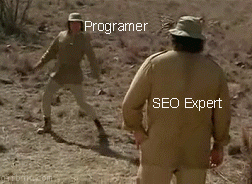 The SEO pricing in Malaysia and other countries are different. Based on the Ahref's research that we include under types of SEO pricing, you can see the standard worldwide marketing range is much higher than in Malaysia.
Those who offer their SEO services locally charge $1,566 per month on average, which equals to around RM6,780, while for the worldwide market, they would charge $3,614 per month which is around RM13,670.
Depending on the markets you want to reach whether it's local or global, you can discuss and customize the package. Ranking on Google's first page means your company is more accessible, making it easier for your target audience to search for you and meet you.
You have to take note that SEO pricing in Malaysia and other countries depend on the nature of the business, how competitive your industry is, experience in SEO services and the quality of service given.
Don't Be Fooled by Cheap SEO Services
If you've been doing thorough research when selecting an SEO agency, you may come across some who offer ridiculously cheap SEO services. These may seem to save you cost upfront; however, most of them will provide any results, or worse,  damage your company SEO in the long run.
Beware of SEO Agencies That Use Spam Tactics
Furthermore, when an SEO agency offers ridiculously cheap prices for their services and claims to offer guaranteed-ranking, chances are they'll be fulfilling their promises with spam tactics.
Spam tactics will risk having your site penalised by Google. When that happens, your site can have a hard time getting back to its initial state. All of a sudden, your stream of website visitors can vanish, and your business harmed.
Conclusion
SEO is based on organized and high-quality content written for any potential leads and visitors. In addition, programs such as optimization, backlink outreach and other SEO strategies represent a large percentage of SEO costs. It is a long-term digital marketing investment.
It can be confusing to select an SEO service provider in Malaysia or any other countries. Therefore, relying on trusted brand names that understand local Malaysian industries and are equally relevant to take your company into the global markets.
Cheap SEO services often lead to Google's penalty on bad quality backlinks and plagiarized content. On another note, high SEO service prices are not an indicator of good quality services.
You have to get what you're paying for. If you want to have successful SEO results, focus on the quality and not the price. Be willing to invest extra money on SEO services if you have own SEO long-term goal to achieve.